open air restaurant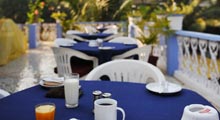 Our charming mosaic - tiled rooftop terrace restaurant makes for many unforgettable moments. Perched among the tree tops, all seem calm & the view pleasant.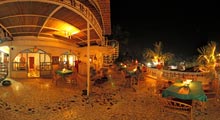 Choose from our numerous breakfast and lunch options during the day and wine and dine into the night as the night sky transforms our rooftop restaurant into a tranquil, scenic and memorable dining experience.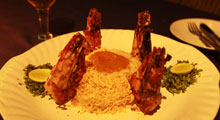 A true Goan holiday is incomplete without a truly Goan meal. From the Vindalo to the lobsters, our chefs put a unique spin on authentic Goan cuisine to serve you with delectable delights, catered to your tastes.
drinks menu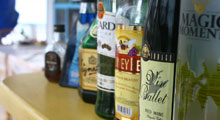 We keep our cellars and kegs stocked to serve you your drink of choice. We have a choice of various international brands as well as a variety of local Indian brews. Either way, we assure you a fine drink.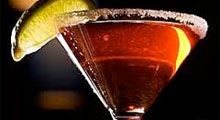 Fenitastic
Try the local Goan brew, Feni - an alcoholic beverage concocted from coconuts and the juice of the cahsew apple - and get a feel for an ale with a Goan touch.
dining options
Meals to meet your tastes
Our kitchen crew strive hard to make sure that your meal, no matter how different, is catered to. So don't hesitate to tell us of your preferences.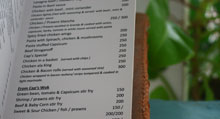 Our Menu
Authentic & contemporary, great on the palate. Read through our menu to see what we serve. Download our menu.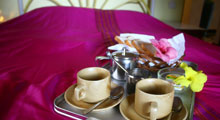 Room Service
Prefer to eat within the comfort of your room? No problem. Order a meal and our staff will have it delivered to your room served with a warm smile.
Goan recipes
Try these classic Goan recipes and bring the great taste of Goan cooking to your home. Follow the steps mentioned below and you too can become a Goan cuisine ninja!

Please tell us about your cooking experience or let us know if you would like to see recipes to some of your favorite dishes.
Beef Roast ( Beef Assado )

Ingredients
2 lb Beef, do not cut
4 tablespoons of Oil
3 Onion, medium, finely chopped
2 Green chilies, chopped
3 Tomatoes, medium, finely chopped
2 Green peppers ( Capsicum)
2 dry Red chilli
1/2 a teaspoon of Sugar

Marinade
2 tsp salt
3 tbsp Vinegar
1 tbsp Ginger-garlic paste
1 tsp Cumin powder
1/2 tsp Turmeric powder
1/2 tsp Black peppercorn powder
1/2 tsp clove powder
1/2 tsp Cinnamon powder
1 1/2 tsp Red chilli powder

Steps
1. Begin by pricking the meat with the edge of a sharp knife, apply the marinade and leave in a cool place for 2 hours. For best results marinate overnight in the fridge.
2. Heat oil in a large pan, fry the next 4 ingredients (mentioned after the beef above) till onions are a tender golden brown, then add the meat and fry it till the color changes slightly.
3. On the side you could fry somew capsicum with onions & keep it warm, only to be added at the end. Add 3 or 4 cups of water with sugar mixed in, cook for 30 to 45 minutes in a pressure cooker till the meat is tender.
4. Once so, Slice the beef accordingly and fry the same in the remainder oil left in the pan and there you have it !

Chicken Cafreal

Ingredients
8 medium sized pieces (about 800 grams) of chicken
1 tablespoon(s) soyabean sauce
1 teaspoon(s) each of cumin seeds and black peppercorns
8 green chillies
1 cup(s) chopped coriander leaves
8 garlic flakes
1" piece ginger
2" piece cinnamon broken
4 cloves
2 green cardamom(s)
1 medium onion(s) finely chopped
2 tablespoons clarified butter (ghee) / butter / oil
Salt to taste

Steps
1. Make cuts on the chicken pieces and marinate it with a mixture of curd or freshly squeezed lime or vinegar and salt for at least two hours. Grind together rest of the ingredients to a paste.
2. Heat the clarified butter (ghee) / butter / oil in a heavy-bottomed pan till hot. Add the ground paste and saute on medium level for about 3 minutes or till it is aromatic.
3. Add the chicken pieces and salt to taste. Mix well. Add a little water if gravy is required. Cover and cook on low level for about 20 minutes or till the chicken is fully cooked. This dish can be had dry too.