recommended tours
Here's where your search ends & your great holiday experience begins, so we suggest you put your feet up & unwind as we take you through what we do best: making your stay an everlasting memory.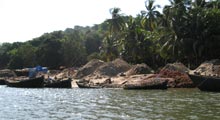 Terekhol River Trip
An hour's drive to the Terakhol fort, a strategic Portuguese military pivot, then onwards to the Terakhol river bank, where our boatman / guide awaits. Sail around river Terekhol, with the occasional stop over a sand bunk , to jump in & wade in safe waters. To conclude, sail to the banks of a timeless village hidden from development's eye.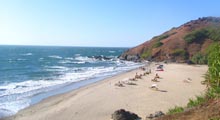 Beach combers
Beach comb North or South Goa's famed coast line via our guidance. swim, relax and have fun, while we tend to your belongings, & take care of you. This trip is usually divided into 2 days, subjective to time spent per location.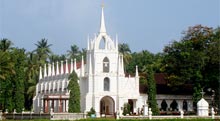 Timeless Goa
A true value package combining the famous Old Goa, a UNESCO world heritage site, the age old temples of Shantadurga, Mangueshi & Tamdi Surla, some recently discovered & rare caves and a fine meal at a great spice plantation, where one is welcomed by friendly local elephants.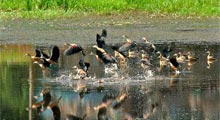 Sanctuary special
A big hit with the kids, our Sanctuary Special covers Dr. Salim Ali's bird sanctuary & the Bondla wildlife sanctuary, a popular picnic spot for the local schools. Dr. Salim Ali's bird sanctuary is located on an island, a temporary home to an abundant variety of migratory birds. We recommend the Spice plantation for the friendly elephant shower!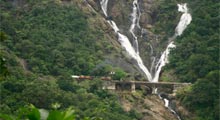 Dudhsagar waterfall
The Dudhsagar Falls, are amongst the top 100 highest waterfalls in world. Believed to be amongst the highest falls in the country, these magnificent falls are located in a blissful tropical jungle with crisscrossing streams. 2 and a half hours away, we take you through very different route , instead of the popular highway, covering bits & pieces of true Goa's village life, a great value add on.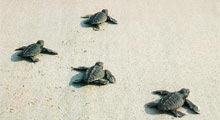 Turtle torch
The Highly endangered giant Olive Ridley turtles pay yearly nesting visits to Goa's Galjibaga Agonda & Morjim Beach. Here's when you may spot a tiny hatchling emerge from its nest and head for the sea. Watch these remarkable creatures beat the odds during the nesting season from November to March. This trip can be clubbed with our "Beach Combers".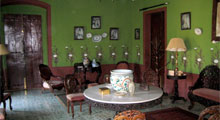 Step back
We take you to the villages of Chandor & Loutolim, two of Goa's oldest villages containing two remarkable experiences ;family's devotion to help conserve one of Goa's grandest colonial mansions, the Braganza house in Chandor & "Bigfoot"- Lotoulim ,a vintage reproduction of Goa with life size clay structures stand testimony to the Goan cultural and traditional heritage.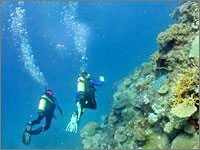 Scuba diving
Never dived before? Have a few great dives under your belt & want more? Look no further as our PADI certified partners have dive plans for everyone. Experience clear waters, among the best diving spots, on the west coast of India. A few trips:-

− Weekend dive trips ( Goa & neighboring states)
− First timer's fun dives
− Coves - Tunnel Shelter Cove, Shelter Cove
− Islands - St. George Island, Pigeon Island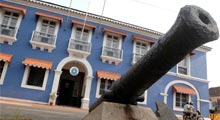 Museums
Archeological Museum and Portrait Gallery-Old Goa, Galleria de Icons-Margao, Galleries at Se Cathedral, St. Francis of Assisi, Basilica of Bom Jesus - Old Goa.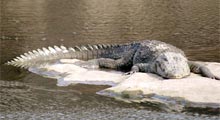 Crocodile Trip
Want to make your trip more exciting? We take you to the muddy river banks of Cumbarjua Canal to view freshwater Crocodiles as they soak up the sun and relax in the waters.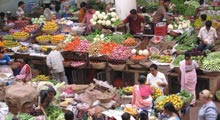 Markets
Let us take you on a tour of the famous night and flea markets. The flea markets of Goa said to be setup by the hippies during the 60's have become an integral part of the Goan experience. In these bustling markets, you can find a wide variety of products on sale such as handicrafts and jewellery from across India, musical instruments, posters, clothing and much more.
getting around goa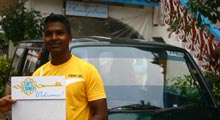 Airport Pickup
Avail of our to & fro transfer facility plying from the airport, major train stations and to bus stations, all at very nominal rates.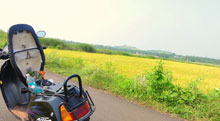 Local transport
Need a taxi to move around? Prefer a scooter? Even a bicycle perhaps? No worries. We understand that you need to get around and have taxis, self driven rental cars, jeeps and a range of bikes available to help you get around Goa.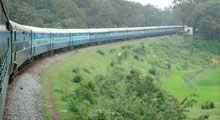 Ticket bookings
Train, bus or air – we help you find the most economical, efficient and comfortable modes of travel within India and abroad.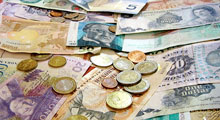 Money Exchange
We have a no hassle, no frills money exchange policy based on current market trends in order to help you exchange your currency for local Rupees and vice versa, while giving you the best rate.
medical services
Over the past years Goa has become a hotspot for medical services at affordable rates. Today the same can be availed of by guests from the world over , at our doorstep, as we have partnered with the best.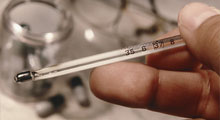 Solutions Simplified
Our Partner's ISO certified diagnostic centre boasts of highly accredited doctors, state of the art equipment & medical services that cover simple routine health checkups, high end diagnostic tests right to consultation by physician on prevention of lifestyle diseases. If you have any special requirements, please let us know prior to your arrival and we'll take all the necessary steps to provide proper and timely medical assistance as required. Some specializations include - CT Scan(64 slice siemens), MRI, Sonography, mammography, Angiography ( Non invasive), Stress tests, Biopsies.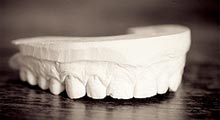 Happy Teeth
Need dental care? Don't stress, tell us of your requirement & we'll get an appointment set up with our highly qualified dental professionals, who follow International standards in dental care. Some of their specializations include - Natural teeth reconstruction / implants, Cosmetic smile design, Teeth whitening, Root canal treatment, Crown work.
trade services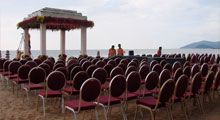 Happily ever after
Goa makes for a beautiful wedding montage with it's majestic churches, palm trees & romantic beaches. Let us, your goan wedding planners, make your dream wedding come true!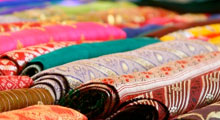 Suit Yourself
Pick from an array of high quality fabric , from leather to cotton – silk blends, made available by our most trusted & reasonable garment houses within our network. We even provide hassle free tailoring as measurements & fittings are carried out as per your convenience & in your room.